Febuary 9th-20th the Florida State fair is here again! There will be 23 NEW food to make your stomach swirl and your heart skip a beat! Here are are some of the choices:
PEANUT BUTTER CREAM DOUGHNUT
Homemade vanilla pudding, peanut butter crumbles, and whipped cream layered over a famous Amish doughnut.
LOCATION: Peachey's Baking Co
HOT CHEETO BURGER
A fresh grilled ground beef patty, covered in gooey melty cheese and topped with crispy crunchy HOT CHEETOS, a real adventure in flavor!
LOCATION: Top Notch Concessions
SALTED CARAMEL TURTLE FUNNEL CAKE
Funnel Cake topped With, Salted Caramel, Fudge and Pecans.
LOCATION: Paulette's Food Service
APPLES FRIES
Granny Smith apples battered and deep fried, coated in cinnamon sugar. They are light, crispy and delicious!
LOCATION: Apples fries
TAKIS TOTS
Hot crispy tater tots topped with warm queso, jalapeños, crushed Takis and sprinkled with Tajin.
LOCATION: Totville
MAC DADDY
BBQ pulled pork & mac n cheese stuffed between two waffles.
LOCATION: Low N Slow Catering
STRAWBERRY SHORTCAKE FUNNEL CAKE
The ultimate strawberry infused funnel cake topped with powdered sugar, strawberry topping, whipped cream and garnished with sprinkles!
LOCATION: Ryals Concessions Sweet Shop
DILLYLICIOUS LOADED PICKLES
Pickle Fries Loaded with Bacon, Ranch & Cheese.
LOCATION: Chester's Gators & Taters
MEXICAN STREET CORN SUNDAE
Fresh cut fries layered with warm Chile con Queso Cheese, Sweet Corn, Mexican Spices, crumbled cheese, Cilantro Lime Crema, Crushed Corn Chips, and topped with Cajun Shrimp or Sirloin Steak.
LOCATION: DeAnna's Steak Sundaes
WALKING NACHO DOG
An all-beef hotdog, chips, jalapeños and topped with warm cheese sauce.
LOCATION: DeAnna's Diner
TAMPA CUBAN FUNNEL CAKE SANDWICH
Spanish pork, smoked ham, Genoa salami, Swiss cheese, dill pickles and mustard nestled between 2 traditional 4-inch cakes then heat pressed and topped with a donut glaze.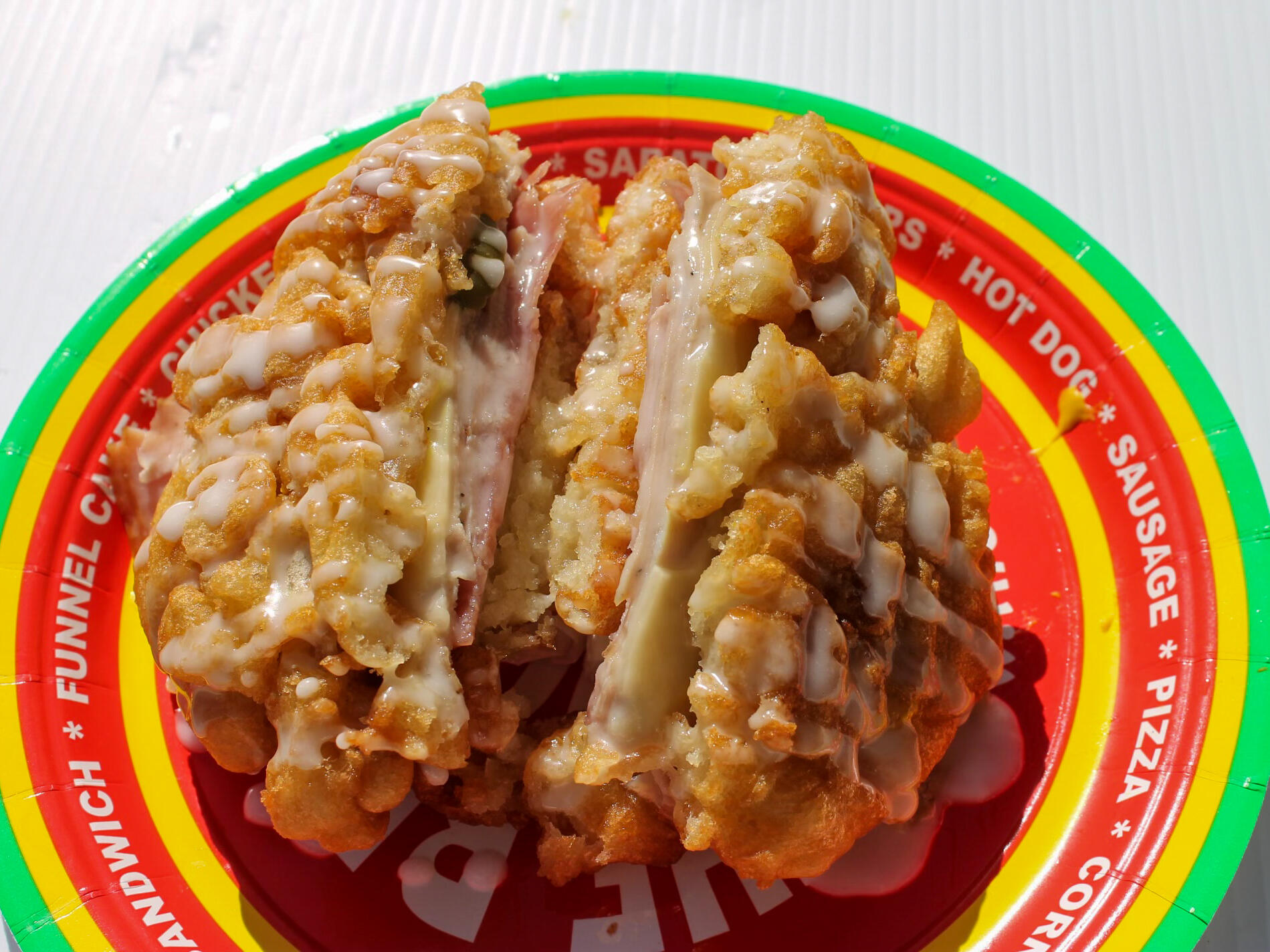 LOCATION: The Best Around
FRIED KEY LIME PIE
Bite size pieces of mini donuts coated in buttercream frosting, layered with Key Lime Pie filling and fresh whip cream, topped with white chocolate, graham cracker crumble, and a fresh lime slice.
LOCATION: DeAnna's Steak Sundaes
MEXICAN STREET CORN PIZZA
Buttered sweet corn, mozzarella cheese, drizzled with mayo, parmesan cheese & tajin.
LOCATION: Angela's Pizza
WATERMELON SWEET TEA
Cold Brew Watermelon Tea sweetened with Watermelon Juice. No artificial colors or sweeteners. Make it a Watermelon Arnold Palmer by mixing with fresh squeezed lemonade.
LOCATION: DeAnna's Steak Sundaes
SWEET POTATO APPLE PIE
Sweet potato piled high with butter, cinnamon & sugar apples with whipped cream.
LOCATION: Spudtacular Potatoes
MANGONADA
Real mango blended into a slushy topped with chamoy (a sweet tangy syrup), tajin (lime tangy salt) and a tamarind stick (sweet chewy, spicy candy).
LOCATION: A&M Concessions
NACHO MAMA
The mother of all nachos. We take our homemade corn tortilla chips and top it with double of our tenderloin steak, Homemade Pico De Gallo, Jalapenos, Green Onions, Sauteed Onions & Peppers, Sour Cream, Nacho Cheese, Shredded Monterey Jack Cheese and Ranch.
LOCATION: Rosie's Nachos
PORK BELLY PINEAPPLE BOWL
Pork Belly grilled over a charcoal rotisserie, served over rice, beans and fresh made sides.
LOCATION: Brazilian Bowls
COOKIE TACO SUPREME
A chocolate chip cookie folded into a taco, stuffed with s'mores ice cream, topped with Oreos & chocolate dip, with a swirl of whipped cream on top.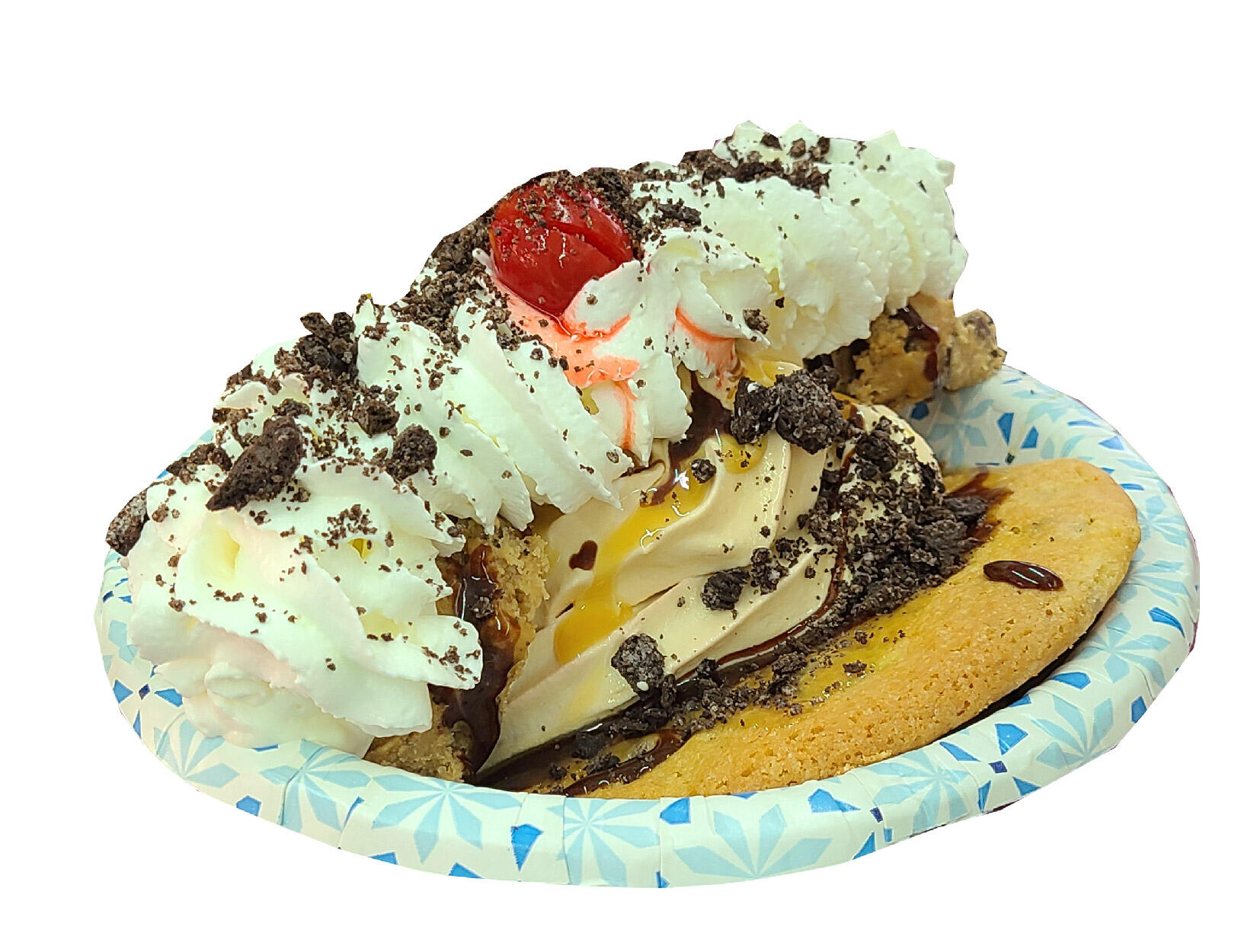 LOCATION: Funky Flamingo
CHICKEN PARM ON A STICK
Delicious bread crumb battered chicken with hot homemade marinara sauce that is topped with melted mozzarella cheese all on a stick. Served with a side of marinara.
LOCATION: Captain Max's
COWBOY QUESADILLA
A Texas-sized quesadilla layered with cheese and shredded BBQ chicken then topped with corn, black beans, and finally cooked to a golden brown.
LOCATION: Mexican Grill
DILL PICKLE LEMONADE
Ice cold cup of lemonade with pickles and pickle juice. It's a big dill!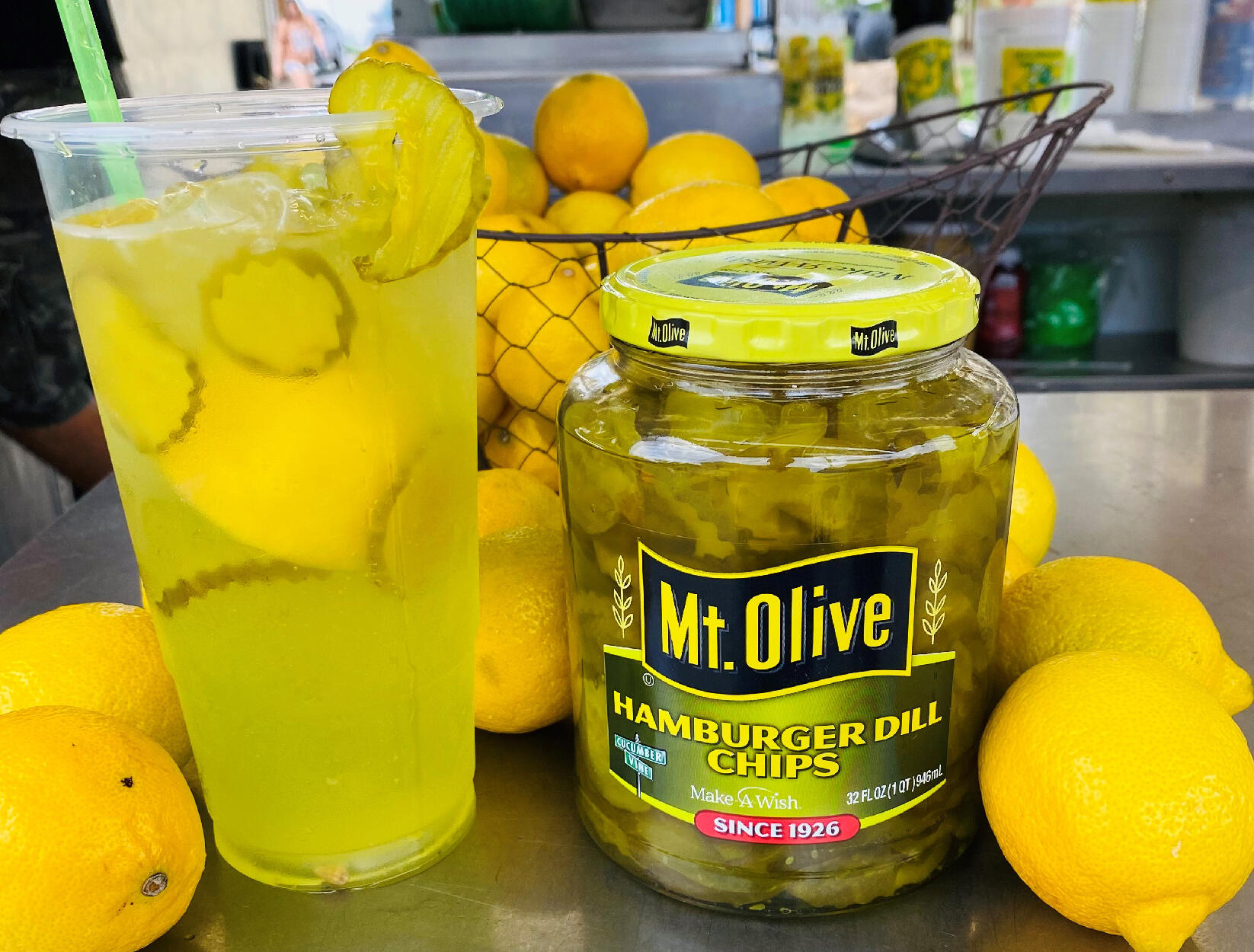 LOCATION: Miller & Company Concessions
TIE DYE SMOOTHIE
This delicious fruity drink is vibrant with red, white and blue tie dye swirls featuring pineapples, strawberries and blue raspberry. The drink is then topped with vanilla whipped cream and a fresh strawberry.
LOCATION: Cinnamon Saloon
photo: getty images
photo: Florida State Fair