One Lucky Fan Is Going to Sit Courtside at a Lakers Game With Flea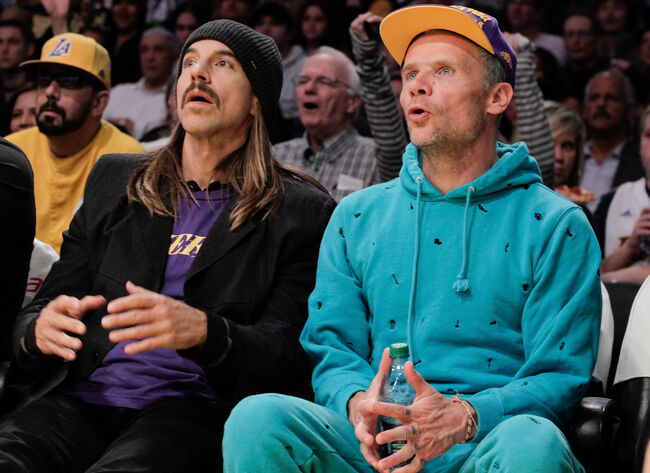 In 2001, Flea founded the Silverlake Conservatory of Music in Los Angeles, and every year he hosts a fundraiser to benefit his music education and community outreach center. This year, he's auctioning off courtside tickets to see his beloved Lakers play the San Antonio Spurs, but there's just one stipulation: he's going with the winner.
"Well, you know, probably the most outlandish and luxurious thing that I've ever bought for myself in my life are these Lakers courtside tickets," the Red Hot Chili Peppers bassist explained to Rolling Stone during a recent interview. "And for me it's honestly like going to church, you know. I just see basketball as one of the most profoundly transcendent aspects of the culture in our country. … I imagine it's kind of like going to the ballet for people that really love ballet or something."
"I just love hoops. And I've been a hardcore Laker fan since I was a little boy," he continued. "So when I go to a basketball game, it's serious business. … But let it be known that I'm so f**kin' serious about it when we decided that I should auction off a game, I'm like, 'I'm not going to not go,' so they gotta go with me. I'm not missing LeBron James. No f**king way. I'm not gonna miss, like, him dishing to Lance Stephenson on the wing. I mean, come on."
Aside from the basketball game with Flea, the fundraiser's art auction will include pieces by Damien Hirst, Shepard Fairey, Ed Ruscha, Raymond Pettibon, Cecily Brown, Kenny Scharf and more. The Silverlake Conservatory of Music fundraiser is happening on September 29 and will be hosted by comedian Marc Maron. The Red Hot Chili Peppers, K.D. Lang and Lindsay Buckingham are all set to perform.
Get more info about the event and the conservatory here.
Photo: Getty Images